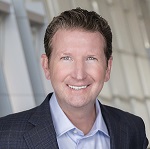 To our newest AAAB members - welcome!  In this issue of AAAB Insights, check out the most recent regulatory updates out of Washington D.C. and across the country in Regulatory Updates.
Please make a note of the upcoming February meetings that are listed in the Members' Spot. If you would like to join a committee, please reach out to get involved.
We welcome any questions or feedback you may have regarding AAAB, so please feel free to contact our leadership board via email at gfeng@aaab.net.
Brandon Wood
AAAB President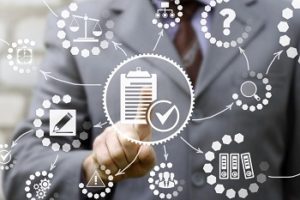 From DC:
ACA:
Washington State Waiver: CMS recently approved a State Innovation Waiver under Section 1332 of the Affordable Care Act that will allow all Washington state residents, regardless of their immigration status, access to qualified health plans, stand-alone qualified dental plans, and a state affordability program called Cascade Care Savings. The waiver will go into effect in 2024 "subject to Washington accepting specific terms and conditions." The approval will not "impact eligibility for the federal premium tax credit," which is currently not available to undocumented immigrants. The state projects that average statewide premiums will be 0.2% lower in 2024 and statewide enrollment will increase by 1% due to the program. 195,690 people are currently enrolled in exchange plans in Washington, with Molina Healthcare leading with 44,414 members.
Final ACA Count: The Biden Administration announced that a record-breaking 16.3 million plus people have selected an Affordable Care Act Marketplace health plan nationwide during the 2023 Marketplace Open Enrollment Period that ran from November 1, 2022-January 15, 2023 for most Marketplaces. Total plan selections include 3.6 million people (22% of the total) who are new to the Marketplaces for 2023 and 12.7 million people (78% of the total) who had active 2022 coverage and made a plan selection for 2023 coverage or were automatically re-enrolled.
Special Enrollment Period Coming: The Centers for Medicare and Medicaid Services said federal Affordable Care Act exchanges will provide eligible policyholders impacted by the end of the Medicaid and Children's Health Insurance Program continuous enrollment condition with a temporary Exceptional Circumstances Special Enrollment Period from March 31 through July 31, 2023. The unwinding process for the Medicaid continuous enrollment condition will begin with state redeterminations on April 1. It is estimated that as many as 18 million people could lose Medicaid coverage when the continuous enrollment requirement established during the COVID-19 public health emergency ends on April 11.
Medicare/Medicaid:
Losing Medicaid Coverage: A major part of the omnibus spending package is a requirement for states to start Medicaid eligibility redetermination by April 1, delinking this process from the public health emergency (even if it doesn't end on April 11). The deadline was combined with a gradual phase-down of federal funding encouraging states to maximize outreach to beneficiaries to detail the impending change. States can now move to release firm dates and timelines to beneficiaries on when their eligibility status could change. Most states have been preparing for months the redeterminations, which are expected to start at the end of the COVID-19 public health emergency (PHE).  States had asked for at least a 120-day notice for the end of the PHE to prepare for the process.
Medi-Cal Additions: California's Department of Health Care Services has revised its recently awarded Medicaid contracts, adding two new payers to the program. Blue Shield of California and Community Health Group will join Elevance Health, Centene's Health Net, and Molina Healthcare in contracts beginning Jan. 1, 2024, with both new payers serving San Diego County. Elevance and Centene were also granted expanded service areas. Centene was previously pursuing legal action against the state but now says it will drop its suit. California's Medi-Cal runs a variety of managed care initiatives throughout the state, and its programs currently serve 13,048,316 Medicaid lives.
Star Ratings Difficulty: When it comes to chasing high ratings and quality bonus payments to help them stay competitive, Medicare Advantage and Part D plan sponsors this year may be forced to overhaul their current strategies and investments if CMS finalizes a host of recently proposed changes. In addition to implementing a new outlier methodology that will drive up cut points and make it harder for plans to achieve 4 stars next fall, CMS last month issued a sweeping rule proposing policy and technical changes across the MA and Part D programs for contract year 2024. Additionally, CMS in June 2020 finalized plans to use the Tukey method for removing outliers before calculating star measure cut points. Their removal will be reflected in the 2024 ratings and should have a negative impact.
25 Carriers Have Almost 88% of Medicare Advantage Market: The top 25 Medicare Advantage insurers enrolled a combined 26.3 million lives, or 87.9% of the national market, as of the fourth quarter of 2022, according to AIS's Directory of Health Plans. Among the large national insurers, only market leaders UnitedHealthcare and Centene — which has rapidly expanded into MA following its 2020 acquisition of WellCare — each saw year-over-year enrollment growth of more than 10%. Centene expanded to 327 new counties for the 2022 plan year, compared to United's 276. Cigna, meanwhile, saw its MA enrollment decline by 5.8%, despite expanding to three new states for 2022. The company will bring its MA offerings to New York and Kentucky for the 2023 plan year. Among regional insurers, Guidewell Mutual Holdings, the parent company of Florida Blue, saw explosive growth of nearly 75% following its February acquisition of Triple-S Management Corp., one of the largest MA insurers in Puerto Rico. Highmark Health, SCAN Health Plan, and Blue Cross & Blue Shield of Minnesota all saw enrollment gains of more than 20%. See the complete list in the table below.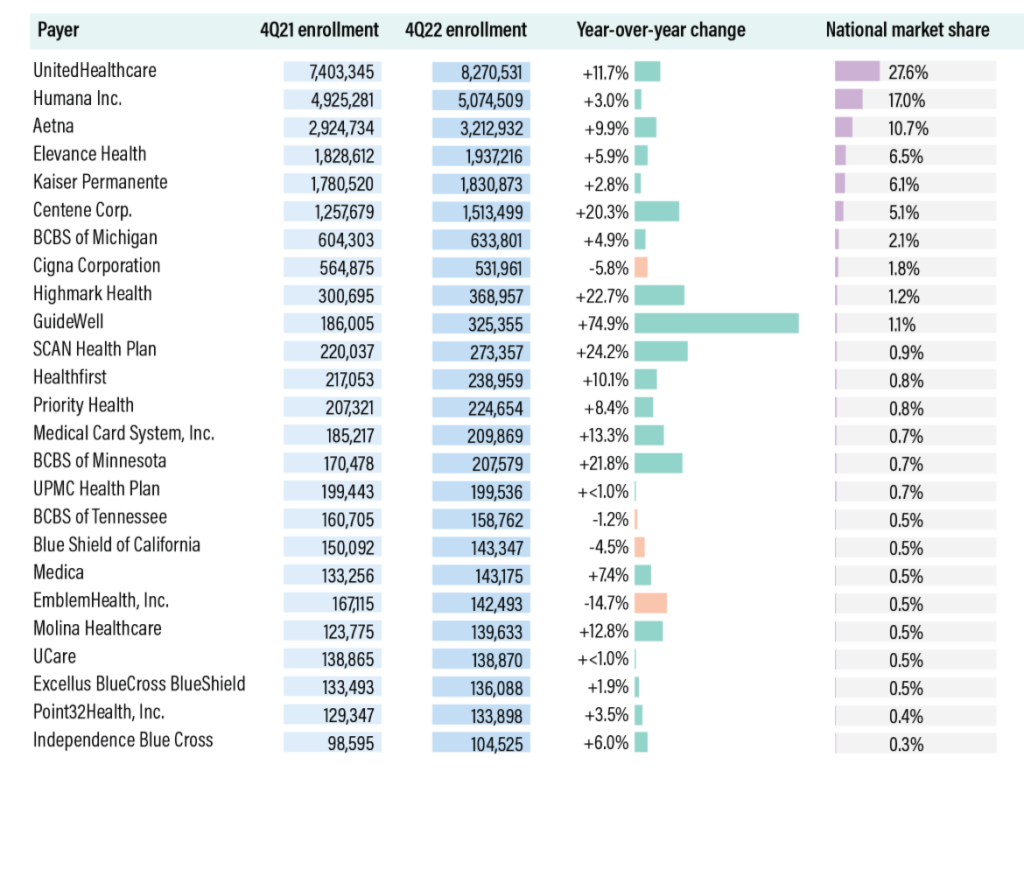 Part D Probably More Expensive Despite Reforms:Even with new reforms to Medicare Part D, some beneficiaries could still face affordability challenges due to the timing of new prescriptions and other factors, a new analysis found. The report, released earlier this week by consulting firm Avalere, explored the impact of new reforms to the Part D drug benefit such as a cap on out-of-pocket costs passed as part of the Inflation Reduction Act (IRA) last year.
Federal Activity:
Federal Register: In the month of January, there were nine new Federal Register entries in the Healthcare Reform section. Those entries break down as follows:
Advisory Committee on Immunization Practices (CMS): In accordance with regulatory provisions, the Centers for Disease Control and Prevention (CDC) announces the following meeting of the Advisory Committee on Immunization Practices (ACIP). This meeting is open to the public. Time will be available for public comment. The meeting will be webcast live via the World Wide Web.
Request for Nominations and Announcement of the Advisory Panel on Outreach and Education (APOE) Virtual Meeting (CMS): This notice invites all interested parties to submit nominations to fill vacancies on the Advisory Panel on Outreach and Education (APOE). This notice also announces the next meeting of the APOE (the Panel) in accordance with the Federal Advisory Committee Act. The Panel advises and makes recommendations to the Secretary of HHS.
Agency Information Collection Activities: Proposed Collection; Comment Request (CMS): The Centers for Medicare & Medicaid Services (CMS) is announcing an opportunity for the public to comment on CMS' intention to collect information from the public. Under the Paperwork Reduction Act of 1995 (PRA), Federal agencies are required to publish notice in the Federal Register concerning each proposed collection of information.
Agency Information Collection Activities: Submission for OMB Review; Comment Request (CMS): The Centers for Medicare & Medicaid Services (CMS) is announcing an opportunity for the public to comment on CMS' intention to collect information from the public.
World Trade Center (WTC) Health Program; Addition of Uterine Cancer to the List of WTC-Related Health Conditions (HHS): In accordance with the World Trade Center (WTC) Health Program's regulations, which establish procedures for adding a new condition to the list of covered health conditions, this final rule adds malignant neoplasms of corpus uteri and uterus, part unspecified (uterine cancer) to the List of WTC-Related Health Conditions.
Agency Information Collection Activities: Submission for OMB Review; Comment Request (CMS): The Centers for Medicare & Medicaid Services (CMS) is announcing an opportunity for the public to comment on CMS' intention to collect information from the public.
Update to the Bright Futures Periodicity Schedule as Part of the HRSA-Supported Preventive Services Guidelines for Infants, Children, and Adolescents (HRSA): A Federal Register notice published on November 2, 2022, detailed and sought public comment on recommendations under development by the Bright Futures Pediatric Implementation Program (Bright Futures Program), regarding updates to the HRSA-supported preventive services guidelines for infants, children, and adolescents in the Bright Futures.
Update to the HRSA-Supported Women's Preventive Services Guidelines Relating to Screening for Diabetes in Pregnancy and Screening for Diabetes After Pregnancy (HRSA): A Federal Register notice published on November 3, 2022, detailed and sought public comment on recommendations under development by the Women's Preventive Services Initiative (WPSI), regarding updates to the HRSA-supported Women's Preventive Services Guidelines (Guidelines).
Safeguarding the Rights of Conscience as Protected by Federal Statutes (HHS): The Department proposes to partially rescind the May 21, 2019, final rule entitled, ``Protecting Statutory Conscience Rights in Health Care; Delegations of Authority'' (``2019 Final Rule''), while leaving in effect the framework created by the February 23, 2011, final rule, entitled, ``Regulation for the Enforcement of Federal Health Care."
Bills Introduced in Key Health Committees: 
House Energy & Commerce: There were 117 bills introduced in this committee during January. None of them were salient to ancillary benefits (several on abortion and drug policy).
House Ways & Means: There were 106 bills introduced in this committee during January. None of them were salient to ancillary benefits.
Senate Finance: There were 29 bills introduced in this committee during January. Of NOTE:  Improving Health Insurance Affordability Act of 2023 to increase ACA cost share reductions and a bill to amend title XXI of the Social Security Act to prohibit lifetime or annual limits on dental coverage under the Children's Health Insurance Program, and to require wraparound coverage of dental services for certain children under such program.
Senate HELP: There were 15 bills introduced in this committee during January. None of them were salient to ancillary benefits.
Salient Congressional Bills:
None specific to ancillary benefits yet
---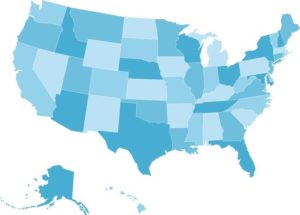 Around the Country:
Union Lawsuit Against Elevance: If a new lawsuit filed by two Connecticut union locals against Elevance Health, Inc. is successful, health insurers managing self-funded plans could face a torrent of litigation from unhappy plan sponsors. Plan sponsor trade groups and the attorneys handling the Connecticut lawsuit argue that carriers across the country systematically overcharge administrative services only plan sponsors for procedures — and that newly available price transparency data proves it.
TeleHealth Extension: One of the provisions found in the $1.7 trillion spending bill recently passed by Congress is the extension of telehealth coverage for two years through the year 2024 corresponding with waivers enacted in the CARES Act of 2020. The waivers allowed increased flexibility to provide virtual care by ending the requirement for providers to be licensed in the same state as the patient, permitting audio-only services, and delaying requirements for follow up in-person visits for mental health services. The waivers also play a role in the ability of health systems to provide hospital-at-home care, in which many organizations have invested heavily throughout the COVID-19 public health emergency.
Cyber Attack Settlement: Scripps Health agreed to pay more than $3.57 million to the victims of a 2021 data breach. The ransomware attack impacted 1.2 million people and the settlement is awaiting a judge's approval.
No Surprise Act Bogged Down: HHS and the Labor and Treasury Departments released their Initial Report on the Independent Dispute Resolution (IDR) Process finding that issuers and providers are overwhelming the IDR arbitration system through their volume of submissions. The Federal IDR system was established by Congress to resolve billing disputes as part of the No Surprises Act, and seeks to prevent surprise medical bills for patients receiving emergency out-of-network care. While over 23,000 of these disputes have been closed, only 15 percent of the closed disputes achieved a payment determination and 69 percent of the closed disputes were deemed ineligible for the Federal IDR process. The number of submissions to the Federal IDR system has led to long wait times for the resolution of disputes as well. The Departments have jointly noted that they will continue to release guidance, conduct outreach to providers and insurers, and make technical improvements to the IDR portal to improve the processing of disputes. Additionally, due to data collection constraints, the Departments explained that this report is only partial and the final report including all 2022 data will be released at an unspecified future date.
California Suing: California has filed suit against a slew of major drugmakers and pharmacy benefit managers, alleging that they acted unlawfully to drive up the cost of insulin. The lawsuit claims that Eli Lilly, Novo Nordisk, and Sanofi, major manufacturers of insulin, and CVS Caremark, Express Scripts, and Optum, the three largest pharmacy benefit managers, used their market share to overcharge patients. A recent analysis shows that insulin costs roughly 10 times more for American patients than it does elsewhere, according to an announcement from Attorney General Rob Bonta's office.
TRICARE Changes: Recently, the Department of Defense renewed Humana's contract to manage health care services for TRICARE beneficiaries via a new $70.9 billion pact that begins in 2024. However, Centene Corp. learned that its current TRICARE contract will expire at the end of 2023 and then move to a company called TriWest Healthcare Alliance. The new contracts appear aimed at addressing troubles that have dogged the military health care program in the past, such as rocky contractor transitions and concerns about continuity of care for families that change locations much more often than their civilian counterparts. TriWest is co-owned by several Blue Cross Blue Shield plans — including Health Care Service Corporation and Regence health. Its new contract is worth $65.1 billion and will begin in 2024.
Louisiana Going Anthem: Elevance Health has inked a deal to acquire Blue Cross and Blue Shield of Louisiana, with the Pelican State insurer joining the Anthem Blue Cross affiliated plans. The acquisition builds on an existing partnership between the two insurers, according to the announcement. The two jointly own Healthy Blue, a plan that serves Medicaid and dual-eligible beneficiaries.
Upcoming Member Opportunities
Get involved! If you aren't currently serving on a committee, but would like to, please email gfeng@aaab.net.