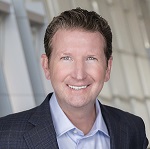 Welcome to our new AAAB members! In the July issue of AAAB Insights, check out the most recent regulatory updates out of Washington D.C. and across the country in Regulatory Updates.
Please make a note of the upcoming May meetings that are listed in the Members' Spot. If you would like to join a committee, please reach out to get involved.
We welcome any questions or feedback you may have regarding AAAB, so please feel free to contact our leadership board via email at gfeng@aaab.net.
Brandon Wood
AAAB President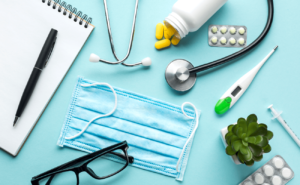 From DC:
ACA:
Friday Finished: Colorado-based Friday Health Plans announced in June that it will cease operations. The company had offered health plans in seven states. Colorado Insurance Commissioner Michael Conway remains optimistic that Friday will be able to continue paying 2023 member claims. "This is happening across the nation," he said. "So this isn't happening because of anything that's happening in Colorado. It's happening because the parent company is failing." Friday announced in late 2022 that it was exiting Texas and New Mexico. Texas regulators began liquidating Friday's assets in the state earlier this year. Friday's Oklahoma operations were placed under supervision in April, and its Georgia operations were placed into receivership as well.
Preventive Care Loss Will Impact Millions: An examination of 2019 claims data by Peterson-KFF researchers found up to 10 million people rely on preventive care services required by the Affordable Care Act (ACA), a mandate that is under scrutiny. A recent court ruling declared that the U.S. Preventive Services Task Force (USPSTF) recommendations under the ACA were unconstitutional. In focusing on particular services and drugs for which USPSTF recommendations changed following the implementation of the ACA, researchers looked at statins for adults aged 40 to 75 with cardiovascular disease risk; hepatitis C screenings for adults aged 22 and older; hepatitis B screenings for non-pregnant, at-risk adults aged 22 and older; lung cancer screenings for adults; and breast cancer risk-reducing drugs for at-risk women aged 35 and older. The study found 5.7% of private-payer marketplace enrollees, or about 10 million people, relied on preventive care services covered by the ACA. Researchers also found statin utilization represented 4.8% of preventive care utilization. Given USPSTF recommendations made following 2019, researchers indicated the data after that point could show different results.
Illinois Insurance Marketplace: Governor JB Pritzker was joined by state and local officials as he signed legislation authorizing a new state-based marketplace for Illinois, which gives state agencies additional tools to create a more consumer-focused health insurance exchange and better identify traditionally uninsured communities. The Governor also signed historic rate review legislation, which will protect health insurance consumers from unfair rate hikes.
Medicare/Medicaid:
CMS Commits to Covering New Alzheimer's Drug: In June, the Centers for Medicare and Medicaid Services stated that Medicare would pay for new Alzheimer's drugs that have full U.S. Food and Drug Administration (FDA) approval. The coverage will require doctors to use a government registry to report on the effectiveness of the medications, which have shown signs of slowing the progression of Alzheimer's disease in clinical trials. Biogen's Aduhelm and Eisai's Leqembi are the two drugs that have received accelerated approval, which is for treatments that "fill an unmet medical need," the FDA says. In the United States, there are approximately 6.7 million people over age 65 with Alzheimer's who could qualify for Medicare coverage for the medications.
New PBM Rule: In a new regulation, the Biden administration proposed increasing drug price transparency reporting by PBMs and pharmaceutical manufacturers supplying Medicaid — and requiring Medicaid managed care organizations to remove pharmacy benefit administration costs from medical loss ratio (MLR) reporting. The proposed rule is meant to improve the Medicaid Drug Rebate Program by "proposing new policies that would assure greater consistency and accuracy of drug information reporting, strengthened data collection, and efficient operation of the MDRP."
CMS Calls for Slowing on Redeterminations: Medicaid redeterminations resumed in recent weeks after years of pandemic-related policies that suspended income verification for the safety net health insurance program, and some states — particularly Florida — seem to be moving faster than others to remove beneficiaries from their rolls, prompting a warning from the Biden administration. Experts say that the pace of redeterminations will vary from state to state — and so will redeterminations' possible negative effect on health equity, which could intensify if states are cavalier or overaggressive with disenrollments.
Duals Legislation: After issuing a request for information and reviewing feedback from stakeholders, Sen. Bill Cassidy, M.D. (R-La.), is circulating discussion draft legislation to improve coverage for Medicare-Medicaid dual eligibles. While several industry experts agree that the legislation is moving integration in the right direction, they also say certain elements of it may be overly ambitious and raise many questions, such as whether states that have limited the number of Medicaid managed care organizations will inhibit the ability of Medicare Advantage plans to participate in the new model.
Kansas Medicaid Activity: CareSource recently said it is partnering with three Kansas-based nonprofits in a bid to serve the state's revamped Medicaid managed care program, KanCare 3.0. Kansas' current Medicaid contracts are slated to expire at the end of 2024, and the state is seeking input from providers and other Medicaid stakeholders about the new program. KanCare is currently served by three MCOs, UnitedHealthcare, Aetna, and Centene Corp.'s Sunflower Health Plan, with United leading the pack at 180,584 members. Overall, the state enrolls 500,873 people in managed care plans.
Favorable Selection in Medicare: New research suggests that Medicare Advantage (MA) plans may be benefiting from a favorable selection of beneficiaries, with less expensive beneficiaries being more likely to switch from fee-for-service (FFS) Medicare to MA. Because MA payments are based on FFS expenditures, this biased selection leads to overpayments. The research indicates that even when adjusting for clinical risk, beneficiaries who switched to MA had lower FFS expenditures prior to switching than those who remained in FFS Medicare. The resulting overpayments equated to 14.4% of payments to MA plans in 2020, implying $40.9 billion in overpayments due to favorable selection. The researchers suggest policy reforms that account for this biased selection.
Federal Activity:
Federal Register: In the month of June, there were 6 new Federal Register entries in the Healthcare Reform section. Those entries break down as follows:
Medicare Program; End-Stage Renal Disease Prospective Payment System, Payment for Renal Dialysis Services Furnished to Individuals With Acute Kidney Injury, End-Stage Renal Disease Quality Incentive Program, and End-Stage Renal Disease Treatment Choices Model (CMS): This proposed rule would update and revise the End-Stage Renal Disease (ESRD) Prospective Payment System (PPS) for calendar year 2024. This rule also proposes to update the payment rate for renal dialysis services furnished by an ESRD facility to individuals with acute kidney injury.
Strengthening Access to Affordable, High-Quality Contraception and Family Planning Services (EOPOTUS)
Agency Information Collection Activities: Proposed Collection; Comment Request (CMS): The Centers for Medicare & Medicaid Services (CMS) is announcing an opportunity for the public to comment on CMS' intention to collect information from the public.
Medicare and Medicaid Programs; Policy and Regulatory Changes to the Omnibus COVID-19 Health Care Staff Vaccination Requirements; Additional Policy and Regulatory Changes to the Requirements for Long-Term Care (LTC) Facilities and Intermediate Care Facilities for Individuals With Intellectual Disabilities (ICFs-IID) To Provide COVID-19 Vaccine Education and Offer Vaccinations to Residents, Clients, and Staff; Policy and Regulatory Changes to the Long Term Care Facility COVID-19 Testing Requirements (CMS): This final rule removes expired language addressing staff and patient COVID-19 testing requirements for LTC Facilities issued in the interim final rule with comment "Medicare and Medicaid Programs, Clinical Laboratory Improvement Amendments (CLIA), and Patient Protection and Affordable Care Act; Additional Policy and Regulatory Revisions in Response to the COVID–19 Public Health Emergency" published in the September 2, 2020 Federal Register.
National Immigrant Heritage Month, 2023 (EOPOTUS):
Announcement of the Advisory Panel on Outreach and Education (APOE) Virtual Meeting (CMS): This notice announces the next meeting of the APOE (the Panel) in accordance with the Federal Advisory Committee Act. The Panel advises and makes recommendations to the Secretary of the U.S. Department of Health and Human Services (HHS) (the Secretary) and the Administrator of the Centers for Medicare & Medicaid Services (CMS) on opportunities.
Bills Introduced in Key Health Committees: 
House Energy & Commerce: 117 bills filed in June–NOTABLE: None.
House Ways & Means: 42 bills filed in June–NOTABLE: None.
Senate Finance: 31 bills filed in June–NOTABLE: S.2012 — A bill to amend title XVIII of the Social Security Act to provide for coverage of dental services under the Medicare program. Sponsor: Cardin, Benjamin L. [Sen.-D-MD].
Senate HELP: 25 bills filed in June–NOTABLE: None.
Salient Congressional Bills:
H.R.711 — To amend title XXVII of the Public Health Service Act to eliminate the short-term limited duration insurance exemption with respect to individual health insurance coverage.
H.R.1610/S.799 — To amend title XVIII of the Social Security Act to provide Medicare coverage for all physicians' services furnished by doctors of chiropractic within the scope of their license, and for other purposes.
H.R.824 — Telehealth Benefit Expansion For Workers Act.
H.R.3133 — To amend title XVIII of the Social Security Act to provide coverage for acupuncturist services under the Medicare program.
---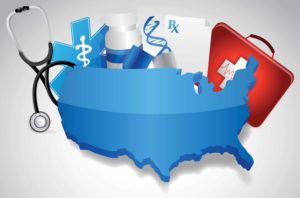 Around the Country:
Bon Secours and Anthem in Dispute: Another contentious payer-provider contract dispute has gone public. Bon Secours Mercy Health will no longer accept Anthem Medicaid patients beginning July 1 as it pushes for higher reimbursement rates.
Chemotherapy Drug Shortage: Cancer patients and their healthcare providers are facing record shortages of effective treatments. A recent survey found that over 90% of large U.S. cancer centers reported shortages. This nationwide shortage is due to expanded demand, supply chain challenges, limited labor and manufacturing capacity, and low profit margins for generic therapies. The Society of Gynecologic Oncology recently released a statement recommending short-term solutions such as minimizing ordering drugs under shortage if others have similar efficacy, as well as using the lowest dose and the longest interval possible between doses. Providers are calling for increased transparency around the timing for additional drug shipments, as well as requesting the U.S. government set up a strategic reserve for cancer drugs. In response to the shortage, the FDA has authorized Qilu Pharmaceutical, a drug manufacturer in China, to import an injectable version of a widely used drug. Apotex, a Canadian pharmaceutical company, will distribute the medication on a temporary basis.
Higher Healthcare Costs: Humana echoed comments made recently by top brass at UnitedHealth Group, warning in a new filing that it's expecting higher care use this year. The Medicare Advantage insurer said in a filing with the Securities and Exchange Commission that is expecting its benefit expense ratio to land at the higher end of its guidance for the year, which was between 86.3% and 87.3%. The insurer said this trend is driven by "higher than expected" utilization in outpatient services, including emergency care, surgeries, and dental services. Humana added that it has also continued to see high enrollment in its MA plans, including more age-ins than expected. These members "tend to run a higher benefit expense ratio than the average new member," according to the filing.
Centene Continues Divestiture: Centene Corp. recently finalized its sale of Apixio, its artificial intelligence value-based care platform, to New Mountain Capital. "We are confident this transaction will best position Apixio to expand its impact as a leading artificial intelligence platform that enables value-based care programs across the country," Centene CEO Sarah London said in a statement. The company has been working to divest its "non-core assets" since 2021. Centene's insurance units currently enroll 21,669,643 people nationwide, with 69.2% enrolled in managed Medicaid, and 9.6% enrolled in Affordable Care Act marketplace products.
Prior Auth Push: A bipartisan group of legislators from both chambers of Congress is urging the Biden administration to finalize updates to prior authorization. Nearly 300 members of Congress submitted letters to the Department of Health and Human Services backing rules proposed in December 2022 that aim to modernize prior auth. In these regulations, the Centers for Medicare & Medicaid Services proposed requiring government payers to switch to electronic prior authorization by 2026.
Upcoming Member Opportunities
Get involved! If you aren't currently serving on a committee, but would like to, please email gfeng@aaab.net.